0-5V Electric Car Throttle Pedal
1. Generally Information
We have two kinds of Foot Throttle —— Hall type(JKH model) and Potentiometer type(JKD Model) for your choice.
P.S.: If matched with QS motor & controller, you should use Hall type(JKH model).
Here is detailed information for JKH Foot Throttle.
Input voltage: 5V 12V 15V 24V 36V 48V 60V 72V 84V 96V 120V
Output voltage: 0-5V5-0V1-4.2V4.2-1V0-10V10-0V
Default: three wires out(cannot connect with switch), 5v input voltage(depends on controller design, for our matched controllers, you can choose 5v input voltage), 0-5v output voltage.
Pls. Inform me if you want to add a switch to connect throttle and controller, because there is four or five wires out when with a switch connect.
2. Wires Out of foot throttle
1.2.swith wire 3.negative wire 4.positive wire 5.signal wire
The difference between four wires and five wires: the theory is the same, for four wires throttle,
There only have one wire for switch, the other wire parallel with positive wire of hall; while for the five wires throttle, there are two independent wires for switch.
3. Details for foot throttle
1.HEX SOCKET Screw 6mm
2.Main body material is aluminum alloy
3.Length of treadle 190mm
4.Screw material is stainless steel
5.The Occlusion opening 1.8mmthe occlusion was carve up after fully fashioned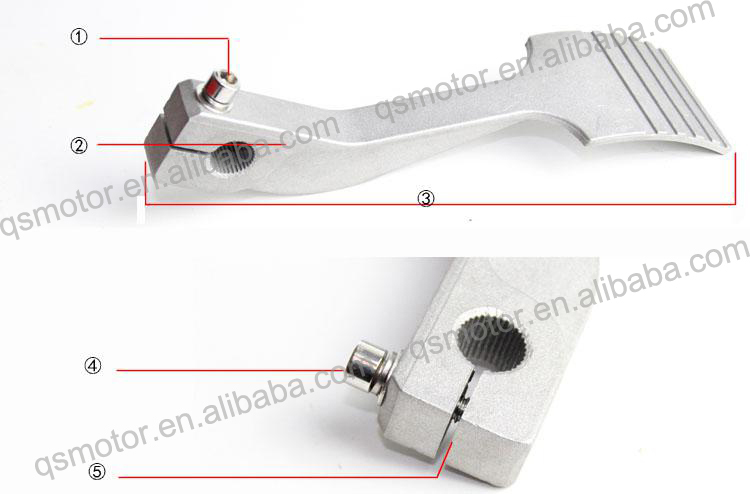 4. Main body structure (below)
1.Pedal can be installed on the left or right side
2.The Mechanical position of pedal used good quality of stainless steel
3.We do the seal waterproof processing between upper cover and shell.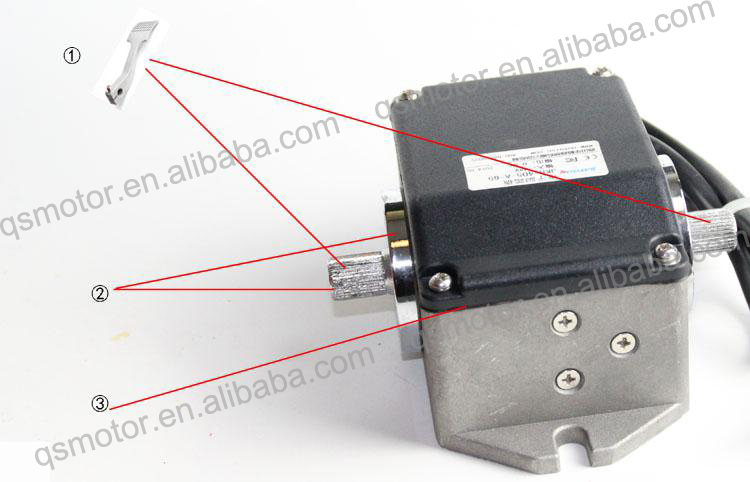 5. Installation Instruction
6. More detailed product pictures
JKH model:
JKD model
No QSMOTOR, NO EVs